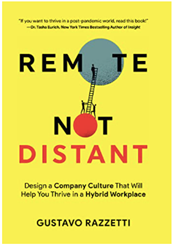 Author: Gustavo Razzetti
Topics: Remote Companies, Hybrid Work Environments, Remote Management Strategies, Organizational Change, Workplace Behavior, Personal Management Strategies
Summary
"Welcome to the beginning of the end of the workplace as we know it. Normal is gone. The culture that got you here won't get you there." Razzetti begins Remote Not Distant with this jarring prediction of the departure from the "office-centric" workplace of our past towards what he believes is the workplace of the future. One where people are treated as people and work happen wherever and whenever the workforce produces positive results. The concepts of "remote" (no office at all), "remote first" (primarily remote, with a common office or gathering place), and "hybrid" (a combination of office-centric and remote) work environments were less well known before the pandemic, but still existed as work models in certain industries and companies. Now in the aftermath of the pandemic, not only are they commonly known, there is a strong call towards these structures and a growing interest in an effective hybrid workplace. The most common argument for returning to the traditional structure of "office-centric" cites the loss of workplace culture, but it's an excuse. Leaders tend to struggle with the feeling of losing workplace control because the traits traditionally valued in leaders, such as confidence, charisma, and extroversion, don't translate well to remote leadership. That's not what a company needs in its leaders to thrive, and the remote platform is the perfect opportunity for a leader who is a human being first, one who is interested in taking care of their employees. By showing this strength, employers can reset their work culture to foster and nurture employees who feel they are creating "a positive impact that goes beyond the organization they work for." And being a more human leader also means having a strong respect and understanding that there can be fluid boundaries between personal and work life. An overly rigid work schedule only creates inequality, but when rules are simple and flexible, it creates a more favorable environment for individuals to thrive. 
The remote and hybrid workplace models do not come without challenges, but Remote Not Distant walks readers through five steps to anticipate and meet them head-on. These include resetting the culture, challenging the idea of alignment, fostering belonging in a workforce, the six modes of collaboration, and strengthening speed, adaptability, and decision-making. In "Foundation," the culture, or the environment that helps people do their best work, has three segments: core, emotional, and functional. Once the culture is defined, employers can begin resetting their mindset to move away from control and into building trust with employees, prioritizing communication with core values in mind while including everyone in these conversations. Hybrid workplaces are a spectrum, and it's crucial to include participants. This book is rich with resources for implementing changes. Each chapter includes worksheets, exercises, and "your turn" activities with a QR code for tools to use with your workforce to assist in the transition process. As your company puts in this work, your purpose should surface, and by "defining your why," you'll be able to have strong connections no matter where your team is located. To foster belonging, Razzetti encourages rituals, or "tangible acts done routinely that carry value and meaning," as they help to promote psychological safety and heighten bonds, morale, and belonging in the workforce. 
"Collaboration" addresses the fascinating fact that little data connect collaboration to innovation and productivity. Employees tend to generate more ideas when they don't interact with others. Remote work gives you the space and opportunity to ask, "Will collaboration create or destroy value?" and move forward as a workforce accordingly. In the end, there isn't any evidence that working remotely "actually harms culture, information exchange, or collaboration," so resist the temptation to return to normal simply for the sake of it and instead embrace experimentation and iteration in your workforce.  
You'll Love This Book If
This book strives to help you increase connectedness and collaboration in a distributed workforce. You'll love this book if you're interested in building a successful "anytime/anywhere" work culture in a hybrid workplace. 
This book may not be for you if you enjoy office-centric work environments or work in a positive, thriving, remote environment.