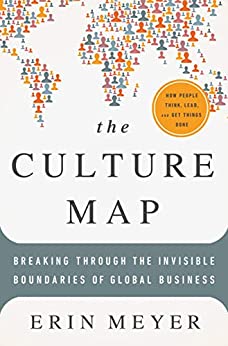 Author: Erin Meyer
Topics: Cultural Diversity in the Workplace, Industrial Psychology, Interpersonal Relations, Global Business Relations
Summary
"You have two eyes, two ears, one mouth, and you should use them accordingly." When Erin Meyer received this advice from a collaborator early in her career as an international relations consultant, it resonated deeply with her. Meyer believes that when interacting with someone from another culture, a great approach is to try to watch more, listen more, and speak less. "The sad truth is the vast majority of managers who conduct business internationally have little understanding about how culture impacts their work." Cultural patterns of behavior and belief influence much of our actions, what we see, and how we think. In The Culture Map, Meyer recounts many engaging stories of cultural miscommunications within the corporate business, creating the feeling of a one-on-one coaching session for readers. To succeed in cross-cultural business, an appreciation and respect for cultural differences are essential. If we know how to decode other cultures, avoiding misunderstandings, conflict, and, ultimately, failure in business ventures becomes easier. Meyer uses her anecdotes to identify common miscommunication caused by cultural differences and ways in which to repair and prevent further breakdowns when conducting similar business in the future.
"Once I am aware of the cultural context that shapes a situation, what steps can I take to be more effective in dealing with it?" Meyer begins by recognizing cultural elements that influence human behavior, then meticulously analyzes them to reveal the reasons behind the behaviors. In each chapter, we explore one of the "eight scales of culture," where analysis of a culture of interest reveals potential pitfalls in communication. Chapter one explores the concept that the skill of being an effective communicator varies depending on whether the culture is low context, telling someone what you're going to say to them, or high context, having a high percentage of words interpreted multiple ways based on context. In chapter two, readers delve into presenting constructive criticism to employees. The chapter covers how it can be construed as a gift or a slap to the face depending on the culture and what cultures use upgraders or words proceeding negative feedback to strengthen it, or downgraders for softening criticism.  Culture also heavily influences persuasion and reasoning patterns, favoring either principals first (deductive) or application first (inductive). Chapter three explores this, delivering an excellent resource of a clear strategy for the different ends of the persuasive scale. Meyer also delves deeply into leadership practices in other cultures and the division of decision-making, distinguishing between the "team" mentality of everyone making choices and running operations more equally vs. the "boss" mentality of following a clear leader and their decisions. More obscure concepts are also explored, such as valuing cognitive trust, confidence in others' accomplishments, skills, and reliability, or valuing affective trust, which forms through feelings of emotional closeness, empathy, and friendship. The final chapters in the book deal with "disagreeing productively" and how perceptions of time affect different cultures or the idea of "how late is late?" Meyer's eight scales all highlight the thesis that "it is only when you start to identify what makes your culture different from others that you can begin to open a dialogue of sharing, learning, and ultimately understanding." She provides readers with a resource in The Culture Map to accomplish this, guiding us towards respect and more successful relationships.
You'll Love This Book If
This book is a fantastic reference if you're looking for a guide that reads like an engaging conversation with a passionate and knowledgeable coach. Meyer's experience indicates that most common business miscommunications arise from cultural differences and can be avoided. Those open to improving their cultural sensitivity will likely find the book accessible and illuminating. 
This book may not be for you if you are not working in a corporate setting or conducting business on a more global scope.